Welcome to the WIFI. Search for witches in your local area, learn histories of United-Evora, or perhaps make a purchase, magic is at your fingertips.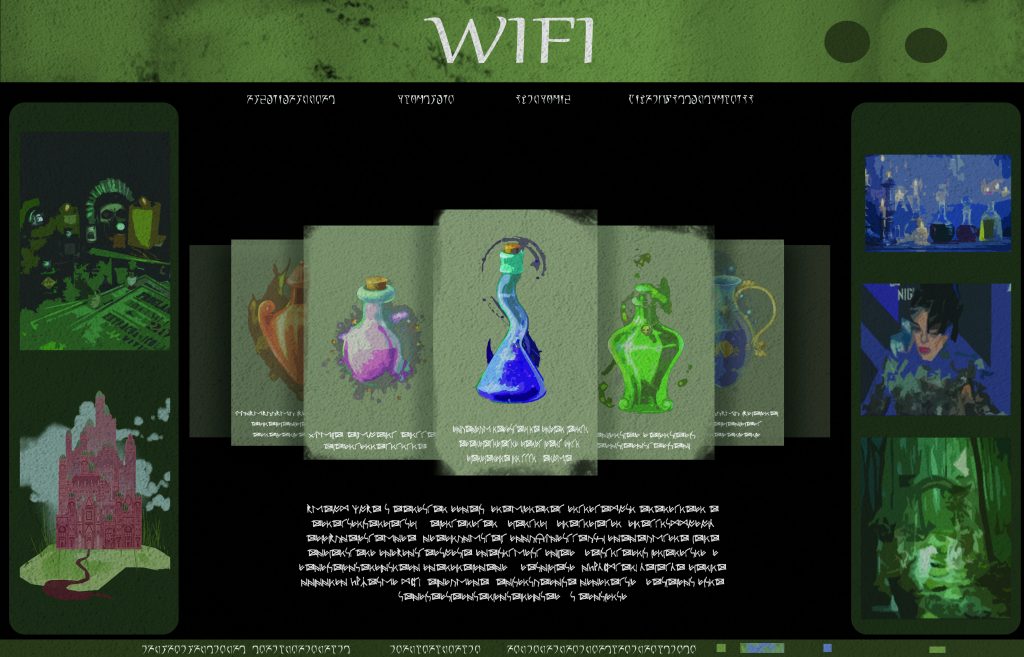 About WIFI
This is the WIFI home screen. From here you can search for spells or potions via Spell-Mart. If you are looking for something different, feel free to look up our vast repository. Choose our entertainment systems, or use our online courses. Simply make your way to the search sphere to start your own magical journey.
Our main page, Spell-Mart, is accessible to anybody with WIFI. It was created and founded by the High Technology Magical Leader (HTML). We pride ourselves on being the original online shop assistant for spells and the best open-source information portal of United-Evora. Our mission is to cater the perfect spell for your needs.
---
Highest sold item of the day
Bang Bang Pow – The Strength Potion
Back by popular demand! Stamped with the SSH approval. Follow the instructions on the label for the desired amount of strength. The potion will last up to 4 weeks! Buy now while Spell-Mart is stocked!
---
Which Witch – Perhaps you are seeking a witch or warlock in your local area. Take advantage of our Which Witch tab!
---
Which Witch allows you to choose the ideal sorceress.
⭐️ Top Rated Sorcerers on Spell-Mart ⭐️
Judah Jellicle ⭐️ ⭐️ ⭐️ ⭐️ ⭐️ (5)
Chiffrous Mechante ⭐️ ⭐️ ⭐️ ⭐️ ⭐️ (5)
Contemptress Gertrude ⭐️ ⭐️ ⭐️ ⭐️ (4)
---
Support WIFI by ordering a copy of the paperback novel.