To celebrate the launch of my debut novel, WIFI – Wizarding Information For Invoking, I'm running a free competition. For a chance to win a signed paperback copy of the book, follow the rules below.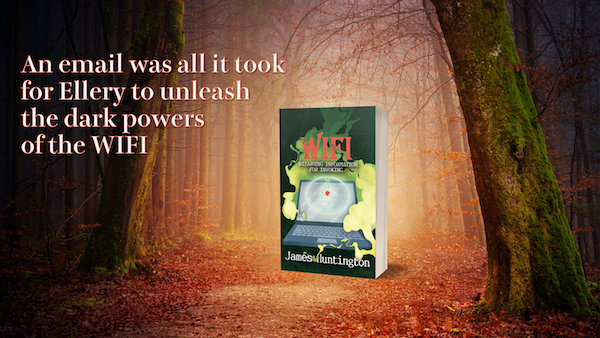 How to win a chance to get a free signed copy?
① Follow me on your favourite social media platform using the links below :

Facebook
Twitter
Instagram
② Then, share this page using the #WIFITheBook hashtag.
③ The winner will be selected on May 11th so stay tuned!
---
Behind The Scenes
There is a lot of free content available here for you to discover the world of WIFI – Wizarding Information For Invoking whilst you wait for the results. Have a look at the behind the scenes articles here:
Synopsis
Innocently logging onto the WIFI with the hope of escaping from her sad life in Stye Village, young Ellery East finds herself caught by a cunning spell that spirits her away to Glass City. Yet all the processing power of the King of United-Evora is not enough to turn back the evil spell, though he does raise a suggestion.
All she has to do is take the grumbling Prince Derrick and Porto, the goblins' civil rights campaigner, and seek the advice of Xeliphicus the Unnoble. He may know how to infiltrate the nerve centre of the HTML (High Technology Magical Leader) and crash its servers.
Ellery will soon learn that the WIFI that runs through every household is far from safe!
---
No purchase necessary. Total of 5 signed copies to be won, each worth £8.99. You must live in the UK to be eligible to receive a free copy of the book. Campaign starts Friday 10th April 2020 and ends Sunday 10th May 2020. Winners will be randomly selected based using their social media profiles (must have followed/liked author's profile/page and shared this page with the #WIFITheBook hashtag, these criteria will be checked on closing of day of the promotion to ensure eligibility). Should you have won a prize, you will be contacted on the social media platform you've used for this contest. Sharing this page with the #WIFITheBook hashtag indicates that you give us permission to contact you on social media to announce that you have won a prize. The signed copy of the book will be posted to you via Royal Mail.